DATE:

AUTHOR:

The Embr Team

RELATED ROADMAP ITEMS:
Development
Community
Businesses
Website
all
Project Update Recap: August 18, 2022
DATE:
AUTHOR: The Embr Team
On August 18, 2022, Embr hosted its second Project Update from YouTube, LinkedIn, and Facebook. If you missed the livestream, you can view it above or through this link here. In today's update, Embr Co-Founders Jason Dominique, James Hunt, and Andrew Cunningham dove into the grander vision for Embr. Read on below to catch the details you may have missed!
Embr.org Platform
Today, the Embr team unveiled the landing page for the upcoming Embr.org platform. We haven't provided too much in the way of updates on Embr.org but it's in the works alongside Checkout v2!
Notable developments/announcements for Embr.org
Over 650+ tokens will be available to be viewed, interacted with and purchased (from native coin) upon beta release. Many, many more will be added in/made available as time goes on.

As of now, tokens have profile pages that will show off descriptions of the projects, and the major links to that project (Twitter, website, CoinMarketCap page, etc.).

Social features will be added in for token pages as well so people can upvote, downvote and comment on projects they feel strongly about.

Charts will also make their way into embr.org token profiles, giving people a true one-stop-shop for all DeFi exploration needs!

Various UI carousels will highlight suggestions for different categories of tokens/projects, and a simple yet effective search function will allow people to get specific in their adventures!

Embr Verified ribbon (bright green/blue color above) will appear for projects that voluntarily undergo KYC/AML screening with Embr. This mark will also allow your token to be searched by the Embr Verified tag.

There will be a carousel of token/project suggestions from the Embr team, projects we highlight as "Editor's Choice", if you will (pictured below).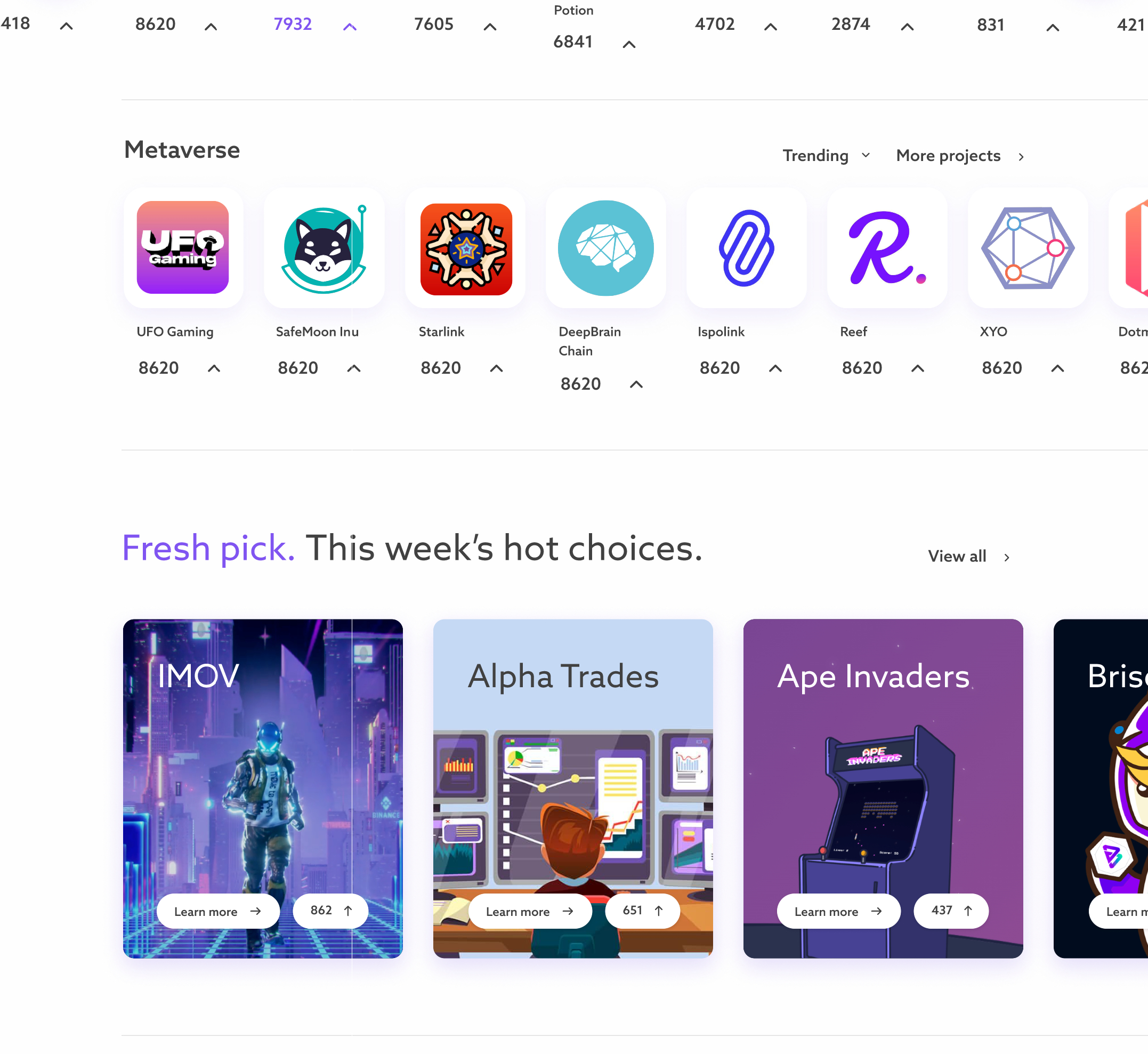 Embr.org is expected to go into beta by end of month - assuming everything goes well. At that point, you'll be able to interact with the Embr.org platform and dive into the world of Web3 - the Embr way.
Token Utility
Embr, at its core, is powered by the $EMBR token. The heart of the utilities we wish to bring to the $EMBR token will come from the Embr.org platform. As we add core features (products in themselves) into Embr.org, the $EMBR token will continue to serve you in a multitude of ways.

The embr.org platform will introduce a number of ways for $EMBR token holders to use their tokens in exciting ways, while not creating an annoying paywall that will lock out the people that are there to simply discover Web3 without buying into Embr. It's a fine line between not creating a paywall, and creating meaningful token utility that we are proud to walk and proud to have built our product philosophy upon.
Launched - Lessons from the ones who dared
We know it's been a lengthy hiatus from Today at Embr, but we hear you! Instead of going immediately back to Today at Embr, we've created a new vision for a podcast called "Launched". This will be a new podcast that will also invite project leaders on to discuss their projects - from their narrative.
Launching a new project isn't easy, especially for projects that intend to stick around. This makes for exciting content that we expect will keep everyone in the community excited to come back for each episode! More details on this new podcast to come soon.
Community Curation
Above, I mention social features that are being built into the embr.org platform. This is actually a big first step toward a core part of the Embr vision - community curation. By interacting on embr.org; upvoting, downvoting, commenting, and engaging the platform; you are helping create the experience that other people will get to enjoy.
YOU, the community, will be able to help guide the platform into showcasing one project v. another. You will be able to impact the projects you love and give them a foothold in the embr.org ecosystem. The power is in your hands.
Final Note
Thank you, to each and every one of you who tune in and share your enthusiasm with us. We could not be more excited for the future of Web3, and we are proud to be on the frontline of the Web3 wave. Expect more exciting project updates in the near future, with long-anticipated announcements on the way soon.
-The Embr Team