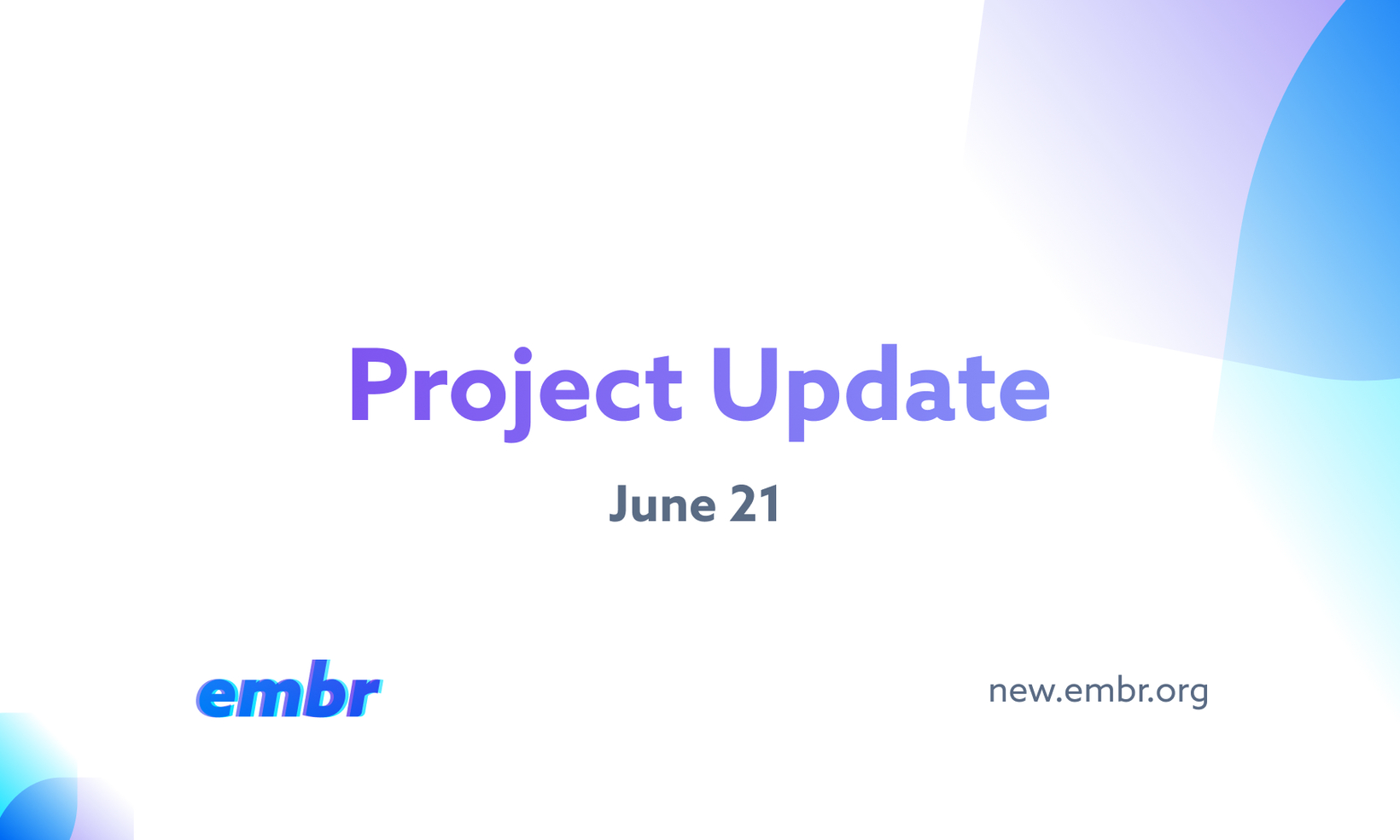 DATE:

AUTHOR:

The Embr Team

RELATED ROADMAP ITEMS:
Project Update Recap: June 21, 2022
DATE:
AUTHOR: The Embr Team
On June 21, 2022, Embr streamed its first major Project Update live from YouTube, LinkedIn and Facebook. Be sure to give it a watch to catch all the juicy details and updates! For those who'd rather read, some notes are below to highlight the key announcements/updates.
Brand Refresh
We have shifted from our orange/blue/charcoal color scheme to purples and lighter blues. We also have a new company logo, new company mark, and a new token logo for the $EMBR token. We wanted to move toward a more flexible brand kit that allows us to keep many variations on brand for future products and services.

You will find our new branding rolling out immediately everywhere we've thought to apply it.
Checkout
New Checkout landing page! We now have a proper, functional landing page for Checkout! Be sure to check it out here.

Fiat Onramp options; you will be able to purchase digital assets with Visa, MasterCard, debit cards, and ApplePay via Embr Checkout.

Transaction Receipts will be built in! When you buy through Checkout, you will receive an email receipt! A small quality-of-life feature that will help Checkout seem familiar to Web2 natives.

Included in the Checkout payment flow is a social media call-to-action that encourages a buyer to consider sharing/speaking about their purchase on social media!

Don't have a wallet? Create a non-custodial Embr Wallet in seconds with just an email - right in the payment flow. Embr Wallet will be compatible with any project that uses Checkout (with Fiat).

Checkout will include a Hacken Proofed badge on it to reassure buyers that the technology is audited and well-secured.

Projects can elect to voluntarily undergo additional checks to receive an Embr Verified tag - a badge that certifies that a project has undergone extra security checks, including KYC.

As explained from day 1, Checkout is free to token-backed projects: no setup fees, no monthly fees, no hidden fees.*
Admin Dashboard
The Admin Dashboard allows you to sign up with an email (or GitHub account) to keep all your Checkout widgets/embeds in one place.

Additionally, the Admin Dashboard will allow you customization options to choose Checkout format (Launcher, embed, modal), positioning on-page, colors and logos (even animated GIFs work). With Admin Dashboard, you are in full control of your Checkout.

Admin Dashboard is a key step in making Checkout a self-serve product. You can build and customize your own Checkouts and can build however many you want.
Self-Serve
Embr Connect is an exclusive business-to-business Slack group that provides a place for project leaders to have access to the team; to submit feedback, to get real-human support, to network and more! If you are a project leader, be sure to reach out to a Customer Success Team associate if interested!

We've finally released thorough documentation about our products, beginning with Checkout. Our GitBook is an excellent place to look for resources to help embed Checkout and to get more developer-relevant information about Embr products. Find it here: docs.embr.org.

Are you on the fence? Not sure if Checkout is for you? Join us at a Weekly Webinar to ask all your questions and see how Embr can take your Web3 business to the next level.

As a part of our efforts to streamline communication and keep various stakeholders up to date, we introduce LaunchNotes as our primary platform to communicate the product development process. Stay up to date here: new.embr.org and be sure to hit that subscribe button!
Marketing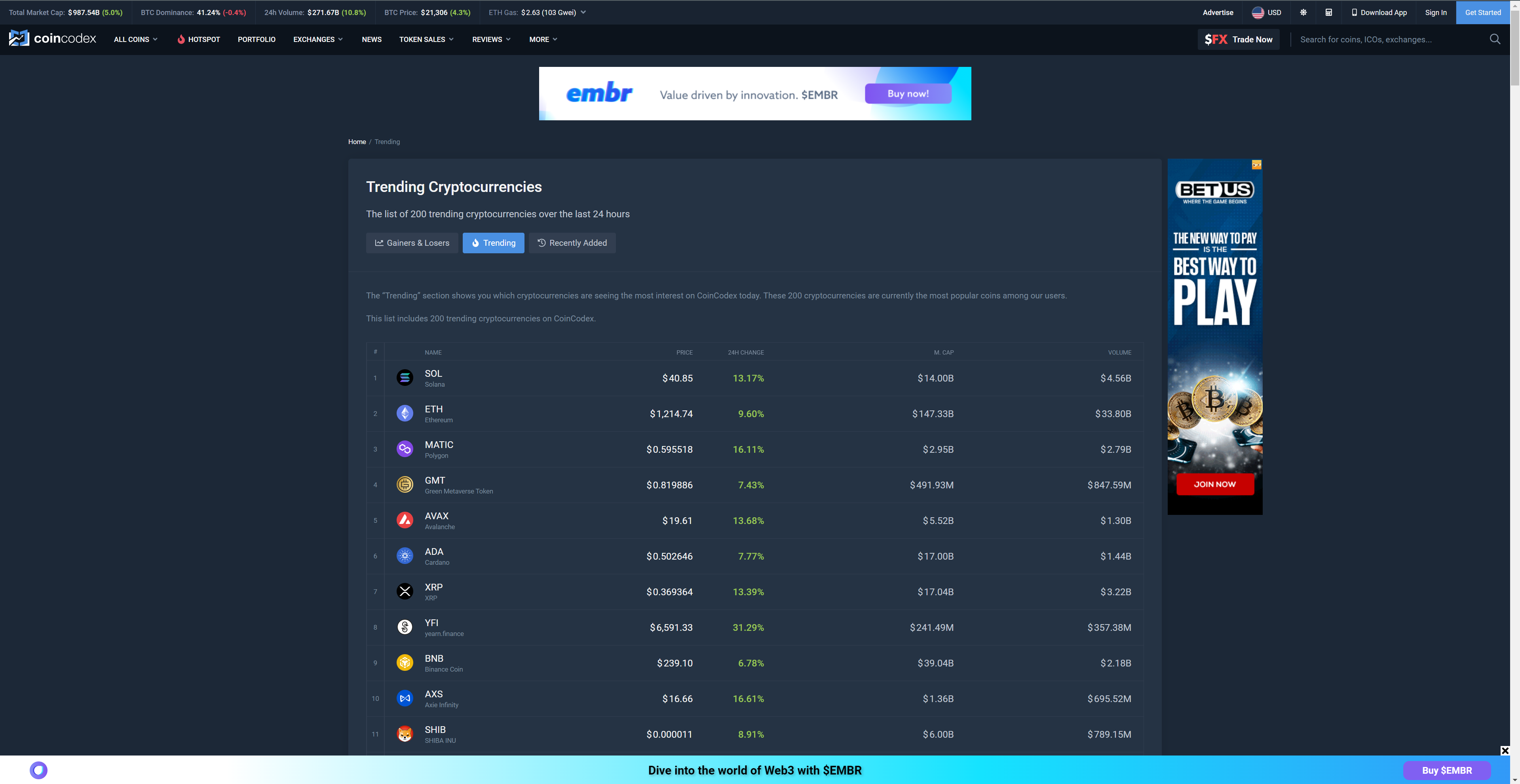 As a final note, thank you for joining us on this journey to bring Web3 to the 99% of the world that is still currently intimidated by DeFi. Remember, you can manage your subscription and customize the notifications you receive on new.embr.org.

-The Embr Team