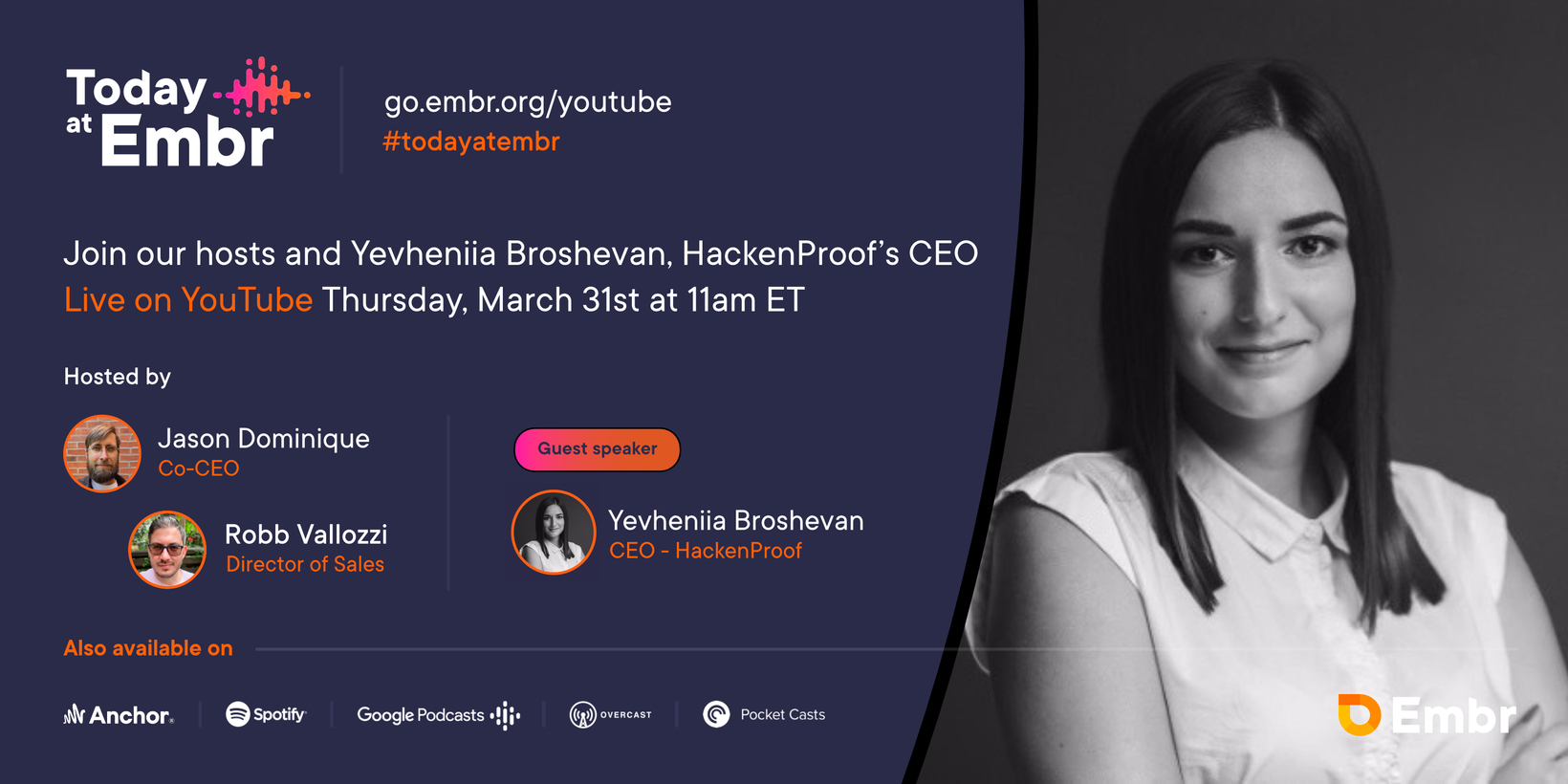 DATE:

AUTHOR:

The Embr Team
Development
Businesses
Checkout
Today at Embr: HackenProof CEO, Yevheniia Broshevan
DATE:
AUTHOR: The Embr Team
On March 31, 2022, HackenProof CEO and Hacken Co-Founder/Chief Business Development Officer, Yevheniia Broshevan, joined Jason and Robb to discuss the importance of cybersecurity in the blockchain space.

Not a week or month goes by without hearing about some protocol or bridge getting hacked, exploited and/or robbed. The hack on Ronin's bridge, totaling approximately $650M in assets, dominates this week's conversation in the blockchain space.

Yev and the hosts discuss how cybersecurity can be ignored by many in the space, and just how dangerous it is to have potentially millions of dollars on the line with little to no preventative measures being put in place. With the irreversible nature of cryptocurrency transactions, and the fact that there are billions of dollars in assets on blockchains, it all makes the space an intriguing target for hackers and bad actors.

Yev, Robb and Jason then discuss the multitude of steps taken to secure Embr's smart contracts and the steps taken to secure Embr's upcoming release, Embr Checkout. In addition to contract audits, serious projects will pursue additional measures such as bug bounties and penetration testing, which, when combined with audits, create a much greater resistance against malicious actors.

What is a bug bounty? A bug bounty is a system that rewards people for reporting potential vulnerabilities and concerning bugs. Bug Bounties essentially crowdsource the job of securing technology from potentially overlooked issues by offering a reward whenever a bug or exploit is discovered. Penetration testing, on the other hand, is a variety of techniques that basically get "white hat" hackers, or ethical hackers, to try and to see if there are any vulnerabilities by getting them to attempt to penetrate the target system. This allows the technology to constantly consider the changing techniques that may be used by hackers to do harm.

All these relevant topics and more highlight this particularly relevant episode. To catch every detail, be sure to give the episode a proper view above!

Today at Embr streams live every week on YouTube, LinkedIn, and Facebook.