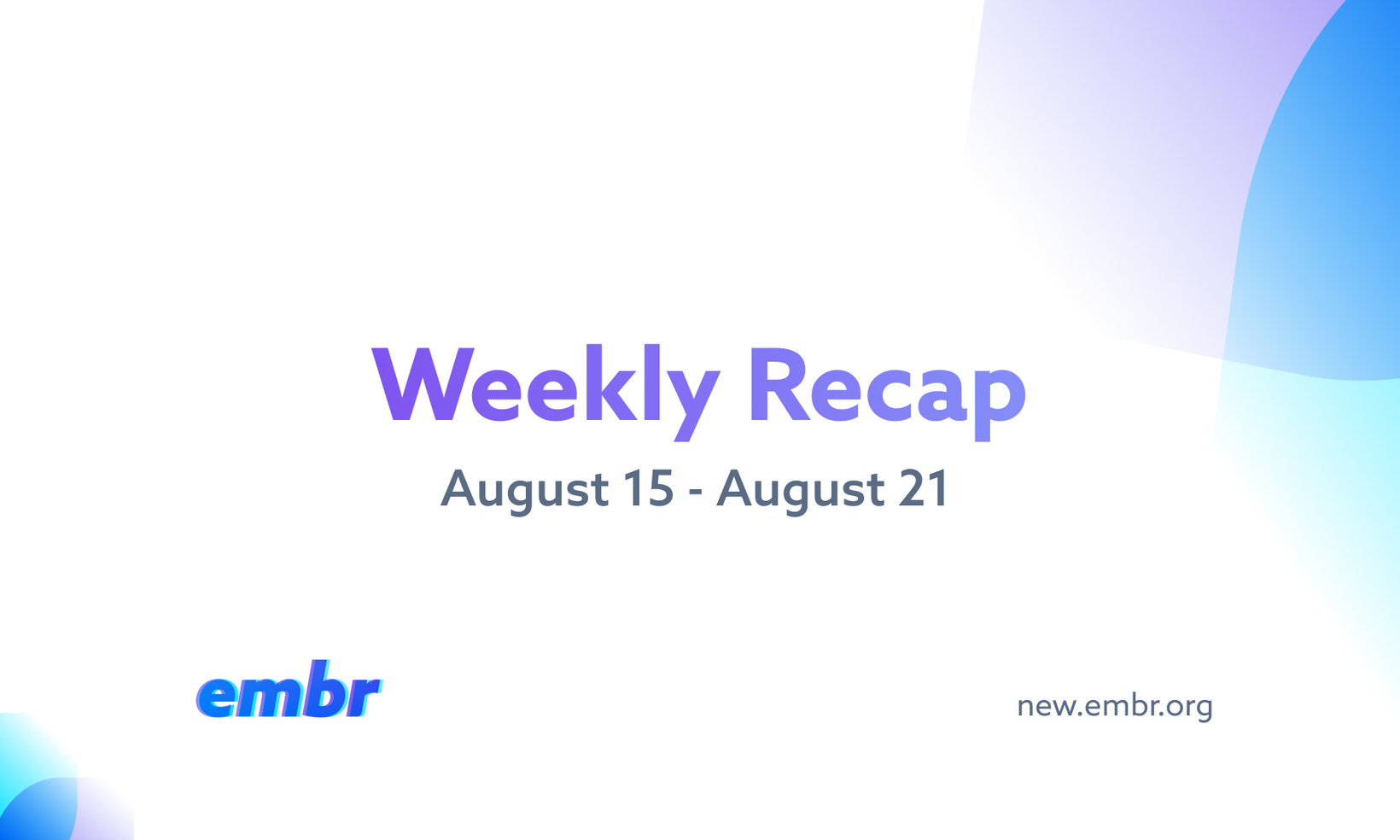 DATE:

AUTHOR:

The Embr Team

RELATED ROADMAP ITEMS:
Community
Checkout
Feedback
all
Weekly Recap - August 15-August 21
DATE:
AUTHOR: The Embr Team
Happy Tuesday, everyone!

It is hard to fathom that September begins next week! But, before going down that rabbit-hole, let's catch up on all the latest and greatest from last week! From an insane amount of Checkout onboardings to our second Project Update, last week had many juicy moments. Read on to get the details:
Project Update - August 18, 2022
Last week, Embr hosted its second major Project Update. To view the video, you can do so above, or through this link. If you'd rather review the key points in writing, you can visit our Project Update post from last week!

The highlight to mention is that Embr.org is coming, and will become the premiere place to discover the world of Web3. Significant additions will be added over time, but the first version, coming in the next few weeks (or sooner) will have hundreds of tokens with information, links, and more for you to peruse.
For a sneak peek at what Embr.org will look like, and for every detail mentioned at the Project Update last week, be sure to review from the options above!
Checkout
What all is new with Checkout this week? Onboardings... Lots of onboardings!
Onboardings
We've onboarded another 8 projects with Checkout this week, with many more pending (in the works)!
Native coins processed through Checkout this past week (Aug. 15-Aug. 21):
2.96 Billion BRISE (BitGert)

178.8 BNB (Binance Smart Chain)

18.02 ETH (Ethereum)
Weekly Total in USD (at time of writing): $85,081.61
Cool Checkout metrics (that don't fit elsewhere)
Did you know that our Checkout Launcher is actually our most popular form of Checkout? 58% of our clients use the Checkout Launcher

Since we began our push in getting Checkout Payment Links on Bubble Buybot, we have successfully gotten 11 projects integrated with Checkout through their Telegram buybot.
Expect more random Checkout metrics whenever there are some to share!
Community
We are ramping up our Telegram efforts this month! We have daily events planned on Telegram; from Embr Spotlight (AMAs) with projects using Checkout, to music nights, to open mic nights! Check in daily at 4 PM EST / 8 PM UTC (times may vary) on our Telegram to hang out and have some fun!

Our schedule for the rest of August:
23rd - Embr Spotlight w/ Mind Token

24th - Open Mic

25th - Embr Spotlight w/ Integrity Coin

26th - Embr Spotlight w/ Treasure Hunt

29th - Embr Spotlight w/ Omniaverse

30th - Embr Spotlight w/ DeFi Kings

31st - Open Mic
These Embr Spotlight AMAs have proven to be extremely fun and thoughtful discussions so far. If you haven't yet, consider visiting us on Telegram!
Give us your feedback!
Don't forget, we love feedback! Don't be shy, let your voice be heard! Anywhere you see a purple box, you can leave feedback, so don't miss out!
Find us on Social Media!