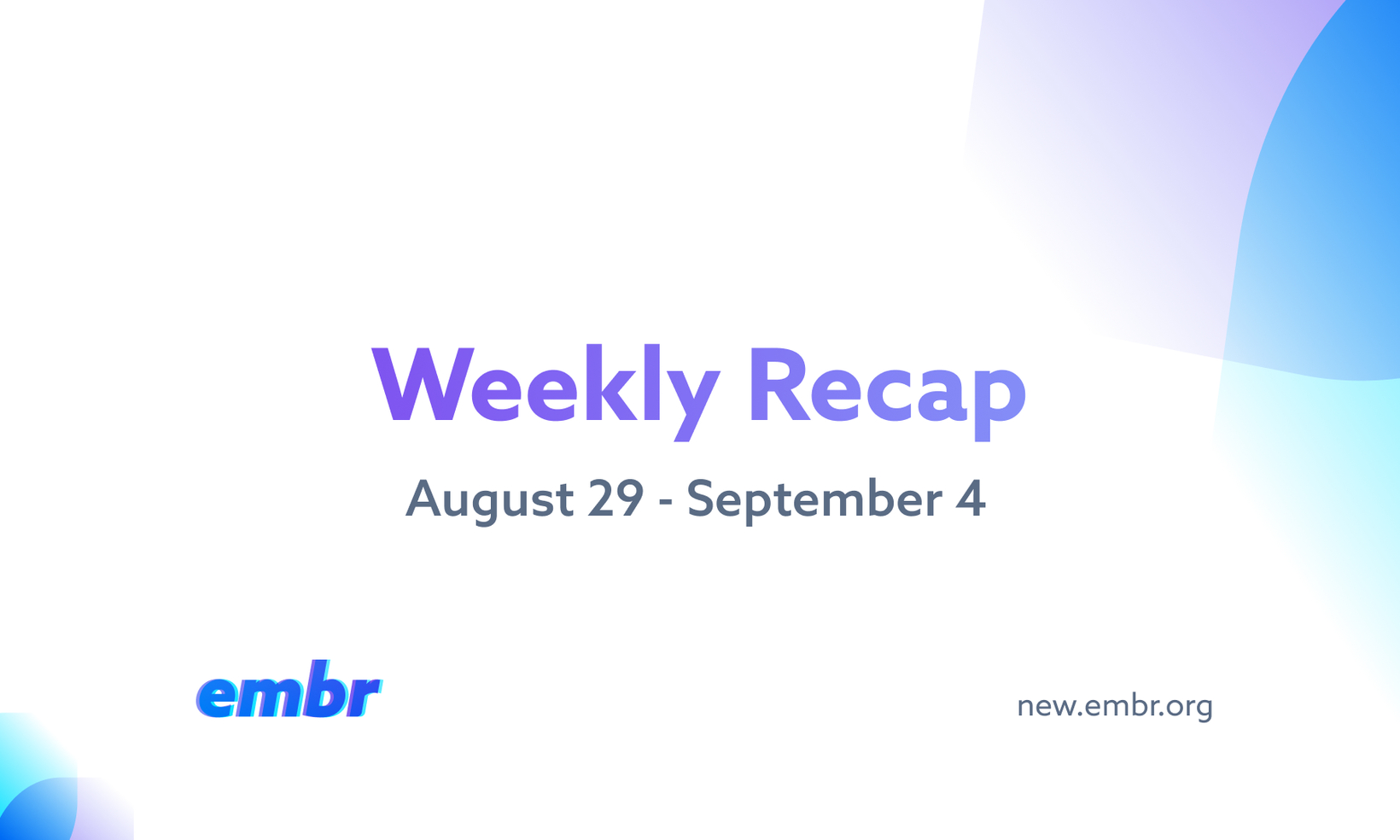 DATE:

AUTHOR:

The Embr Team

RELATED ROADMAP ITEMS:
Weekly Recap - August 29-September 4
DATE:
AUTHOR: The Embr Team
Happy Monday, everyone, and happy Labor Day to the Americans reading this!

And just like that, it's now September! It's hard to believe how quickly the summer is passing us by. We've been keeping busy at Embr; from more Checkout onboardings to our first Mega Spotlight, this past week was an exciting one! Read on to get the details!
Checkout
What all is new with Checkout this week? MORE onboardings... Lots of onboardings!
Onboardings
We've onboarded another 9 projects with Checkout this week, with many more pending (in the works)!
Native coins processed through Checkout this past week (Aug. 29-Sep 4):
1.43 Billion BRISE (BitGert)

98.67 BNB (Binance Smart Chain)

23.74 ETH (Ethereum)

150 FTM (Fantom)
Weekly Total in USD (at time of writing): $65,978.72
Miscellaneous Checkout metrics:
This week, we had 266 transactions processed through Checkout

The top three tokens with the most unique transactions were: Vita Inu (96), Grove Token (71) and Rodeo Token (21).
Expect more random Checkout metrics whenever there are some to share!
Community
We've officially completed a full month of near-daily Telegram AMAs with other projects! We've engaged various projects with incredible ideas and passion for what they're doing. We are continuing this effort for September, but we are moving the time back one hour to 5 PM ET/9 PM UTC.
We have more exciting AMAs coming this month, as well as rarer Mega Spotlight events that bring a dozen or more projects together for a pitch contest!
September AMAs - 5 PM EST/9 PM UTC
Monday, September 5th - Embr Spotlight - Genyen

Tuesday, September 6th - Embr Spotlight - CashVerse

Wednesday, September 7th - Embr Spotlight - Hummingbird

Thursday, September 8th - Embr Spotlight - DiveWallet

Friday, September 9th - Embr Spotlight - Vault Coin

Saturday, September 10th - Embr Spotlight - RocketFi

These Embr Spotlight AMAs are wonderful discovery experiences where you can learn about the various efforts going on in the space. You may discover a gem that speaks to you, so be sure to drop by the Embr Telegram every day at 5 PM ET/9 PM UTC.
Embr Mega Spotlight 1
On Sunday, September 4, Embr hosted over 20 projects on Telegram for our first Mega Spotlight event. What are Mega Spotlight events? We invite multiple projects to hang out, pitch their project, take part in games and giveaways!
Our first Mega Spotlight turned out to be quite a success with over 120 attendees and lots of excitement, positivity, and opportunities to network! We expect we will do these again, but these will be less frequent than our daily Telegram AMAs.
To everyone who joined us yesterday, thank you for helping make our first Mega Spotlight one for the record books! Missed the event? You can catch the video/audio recording on Telegram!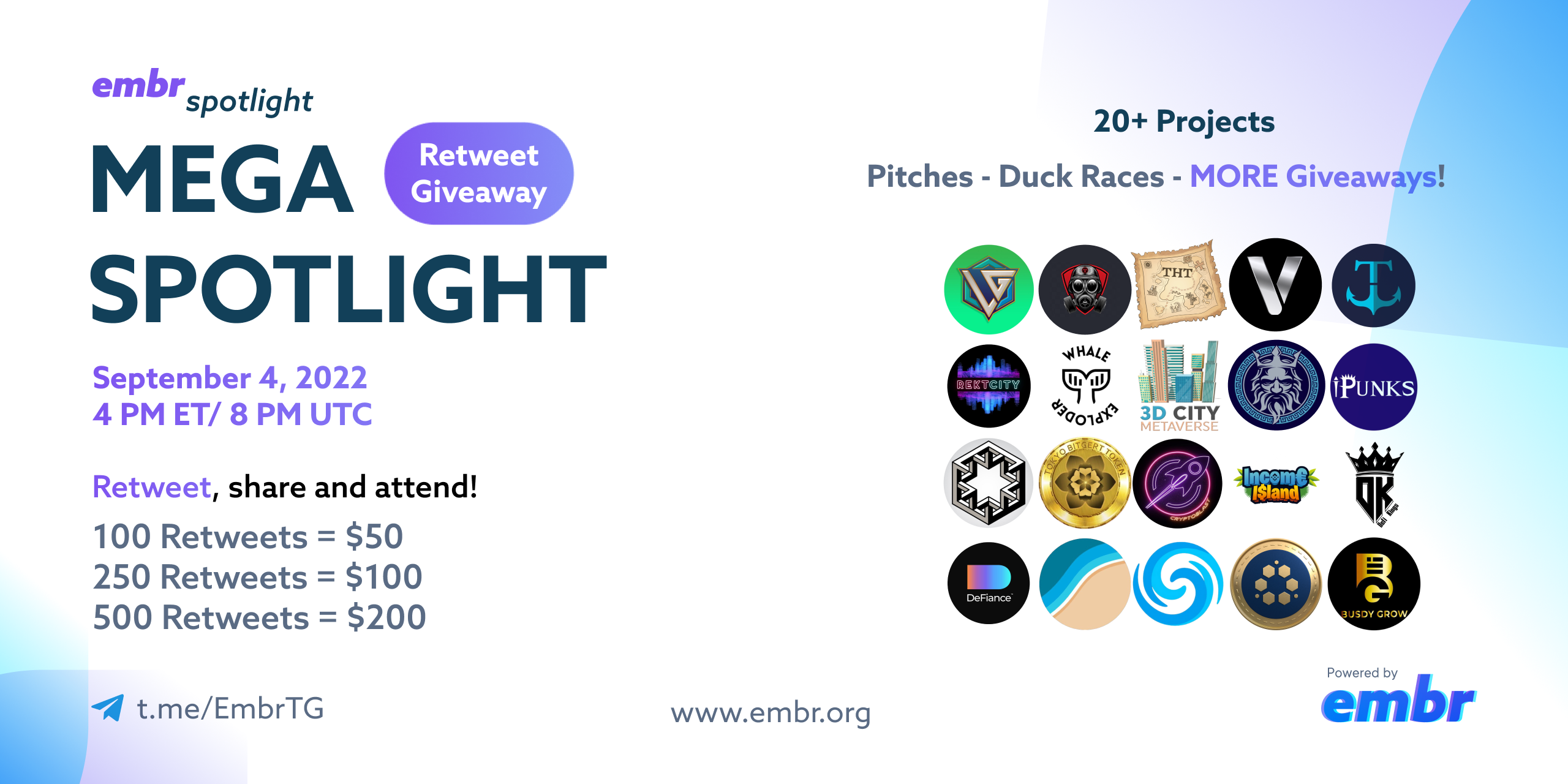 Give us your feedback!
Have some feedback for us? Have a cool idea that you think could help the Embr project? Have a simple suggestion? Let your voice be heard!
Anywhere you see a purple box, you can leave feedback, so don't be afraid to leave us a little something!
Find us on Social Media!