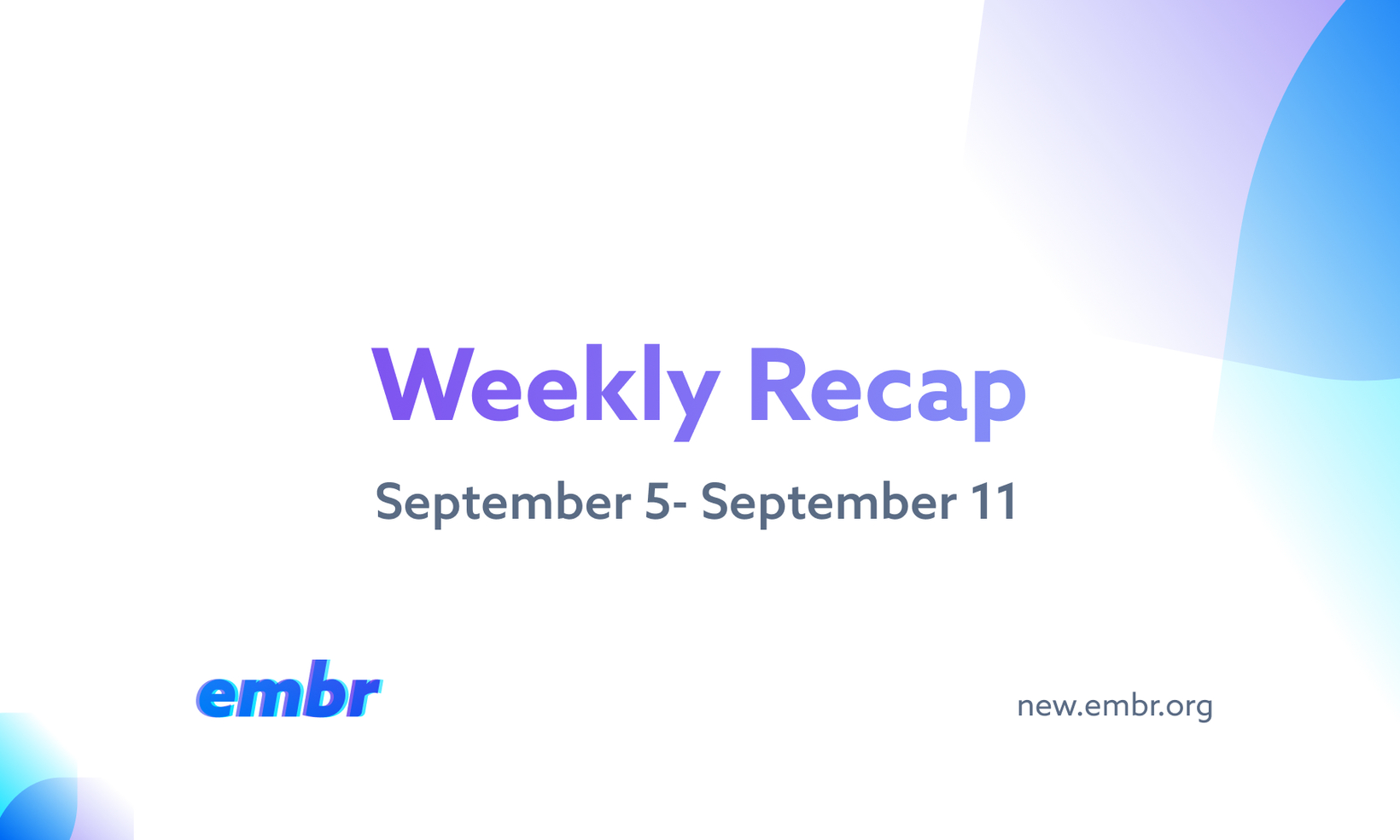 DATE:

AUTHOR:

The Embr Team

RELATED ROADMAP ITEMS:
Weekly Recap - September 5-September 11
DATE:
AUTHOR: The Embr Team
Happy Monday, everyone!

Another week passes by! Embr continues developing and preparing for what should be an exciting period of time for Embr in the coming while. Read on to see all that's gone on in the past week!
Checkout
What all is new with Checkout this week? Volume is up week-on-week, with a couple new onboardings:
Onboardings
We've onboarded another 2 projects with Checkout this week, with more pending (in the works)!
Native coins processed through Checkout this past week (Sept. 5-Sept. 11):
790.6 Million BRISE (BitGert)

100.6 BNB (Binance Smart Chain)

33.44 ETH (Ethereum)
Weekly Total in USD (at time of writing): $89,258.51
Miscellaneous Checkout metrics:
This week, we had 238 transactions processed through Checkout, a 10.86% decrease despite having more volume.

The average dollar value per transaction that went through Checkout this week was $375.03.

The top three tokens with the most unique transactions were: Vita Inu (72), Grove Token (53) and IMOV (15).
Expect more random Checkout metrics whenever there are some to share!
Community
We have more Embr Spotlights scheduled for this week! These Embr Spotlight events are wonderful discovery experiences where you can learn about the various ambitious efforts going on in the space. You may discover a gem that speaks to you, so be sure to drop by the Embr Telegram every day at 5 PM ET/9 PM UTC.
September Spotlights - 5 PM EST/9 PM UTC
Monday, September 12th - Embr Spotlight - Wanchor

Wednesday, September 14th - Embr Spotlight - French Connection Finance

Thursday, September 15th - Embr Spotlight - EverReflect

Friday, September 16th - Embr Spotlight - Cypher

Saturday, September 17th - Embr Spotlight - Cryogen
Give us your feedback!
Have some feedback for us? Have a cool idea that you think could help the Embr project? Have a simple suggestion? Let your voice be heard!
Anywhere you see a purple box, you can leave feedback, so don't be afraid to leave us a little something!
Find us on Social Media!